Congratulations to the Bob Freeman Most Accurate Trowel high schools competitors! The overall winning team in 1st place is Ontario High School of Chaffey Joint Union High School District with masons Marco Salgado and Anthony Gomez, and tender April Ruiz.
In 2nd place is AB Miller High School of Fontana Unified School District with masons Ramon Cuevas and Eddye Trujillo, and tender Anthony Zamora. Their instructor is Mr. Danny Clayton.
In 3rd place is Boys Republic High School of Chino with masons Alex Navas and Malik Arthur, and tender Miguel Sorto. Their instructor is incomparable Mr. Steve Perez.
In 4th place is Valley High School of Escondido Union High School District with masons Anel Guzman and Raul Santos, and tender Job Moreno. Cheers to VHS! On their first time to enter a completition like this one.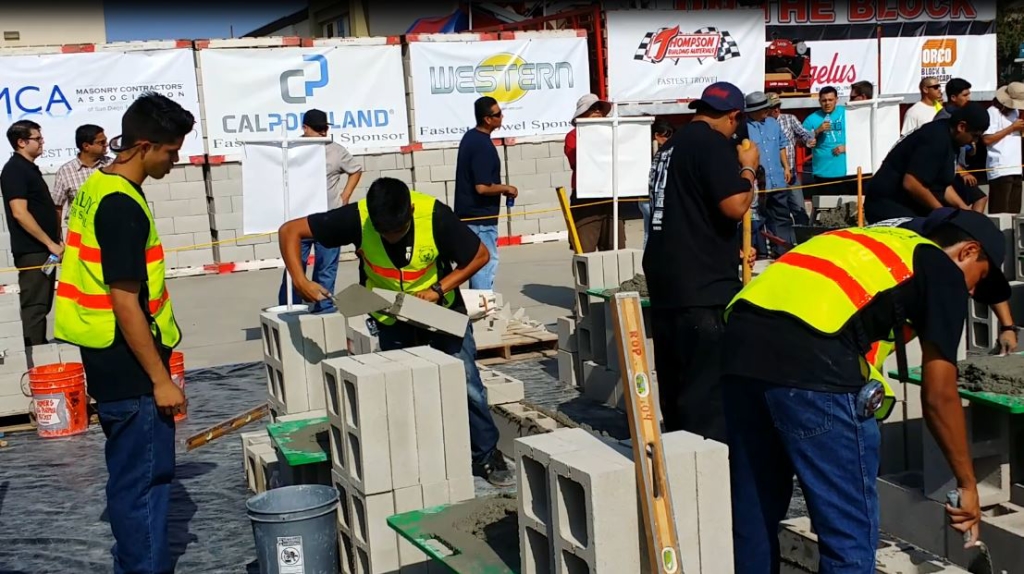 MITA introduces masonry skills in high schools, and this event allows masonry students to enter a team of 2 masons and 1 tender, in a timed event to build a 13 ft. 3 5/8" wall. They build a first course of 8x8x16 block and thereafter build with precision 4″ highs.
They are allowed to lay their first course before the clock starts. Then they have 25 minutes to lay block. 1 minute break between laying and tooling. Then 5 minutes to tool joints.
The winning school receives a powerful MK Electric Series Brick & Block Saws donated by MK Diamond – lucky Ontario High School masonry lab!
All runner-up teams received a Makita 2 piece combo drill kit donated by Hub Construction Supplies for their high school masonry labs.
P.S. Yes! The girl tender is the same April Ruiz from the history-making all girls team who won the Top Notch Trowel high school competition earlier this year in May.